By Jennifer Howard, WorkitMom.com Contributor

There are many reasons why I chose to make bento lunches, but the biggest reasons are:
They are easy to make. There is something about filling individual compartments that makes it easier for me to cover all food groups.
More options for fresh foods. I love the variety of colorful fruits and vegetables that can easily be prepared and used in lunches.
Few, if any, pre-packaged items. This is probably one of my most favorite reasons to begin making bento lunches.
To begin preparing bento box lunches, I had to find appropriate containers. I ended up purchasing themed boxes with snap lids. My kids love the movie Totoro, so they chose that as their theme, although most any container will do. Just be sure to pick containers that aren't too big. My boxes look small, but they can hold a good amount of food. It's also a good idea to pick a shallow container. Bento lunches work best when there is very little wiggle room between the food and the box sides and lid.
Now the fun begins. Fill your bento box with some yummy food. This is where dividers come in handy. My box has one divider that can be moved from side to side. This is great for splitting the space in half. I then use paper baking cups to divide the spaces further into fourths. Many people like to use silicone cups, but I prefer using seasonally decorated paper cups. I like the variety of them, and frankly, I just don't like washing out silicone baking cups. Another "must have" item would be small cookie cutters. I use these daily to cut foods into fun shapes.
I prefer to keep my bento simple. I have found that there is a fine line to what the kids will and will not eat. If the food is very intricate and handled a lot to make it more ornamental, they tend to shy away from it. If it's colorful and easy to eat, I notice a lot less comes back home with them.
Speaking of food that returns home! Another great plus I have found since preparing this style of lunch is that when the kids come home with food left in their boxes, I just re-open the boxes and serve leftovers as an after school snack. The leftovers are still fresh and the kids seem to appreciate the opportunity to finish the food they ignored earlier.

Other items that you can use to hold foods or make foods into fun shapes include:
Egg Molds
Rice Molds
Hot Dog Cutters
Food Picks
Sauce Bottles
All of these can easily be found on the Internet. I rarely use them, although I did get a bunch of tiny circular bead containers with screw tops to hold ranch dip when I pack carrot sticks.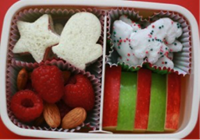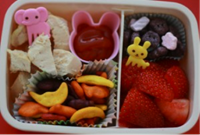 The basis of each lunch I prepare for my kids usually includes a sandwich cut with a cookie cutter, complemented with a nice variety of sides. I usually add some fruit to get the needed fruit servings into my kids' day. The kids need a little more coaxing with veggies, so I usually hold off on most vegetable servings for dinner at home. 
My kindergartner does really enjoy edamame or carrot sticks, so I include those at least once a week. I try to make homemade items for their sweets. Fluffer nutter bites, krispy treats, and marbled banana bread have been popular. When I'm out of those items, I will surprise them with a sweet cereal or packaged cookies. I try to avoid these packaged foods as much as I can, but I'm OK with serving them in small doses. One of my kids is on the leaner side, so I regularly add nuts to her lunches for a healthy fat choice.
Have fun creating your bento boxes, but fair warning: I've had more than one teacher approach me and ask if I can make their lunches for them, too!

Connect with Work it Mom on Facebook and Twitter!