It's hard to argue America's ongoing love affair with pasta, even if some consider it a guilty pleasure, thanks to that low-carb revolution.
We look for pasta on restaurant menus, browse Pinterest for new recipes to try and even pick it up in the ready-to-eat and frozen food sections at the supermarket.
Spaghetti to rigatoni to macaroni and everything in between tempts us and makes a tasty base for just about any sauce or ingredient you crave.  And when you know how to build it, pasta can be a great addition to your healthy diet… guilt-free! 
The trick is knowing what's what when it comes to pasta, because there are a whole lot of different pastas out there on restaurant menus besides just linguine and spaghetti.  Here's your guide to common pastas your favorite chefs are using in their recipes and how to use them at home to whip up your own tasty creations: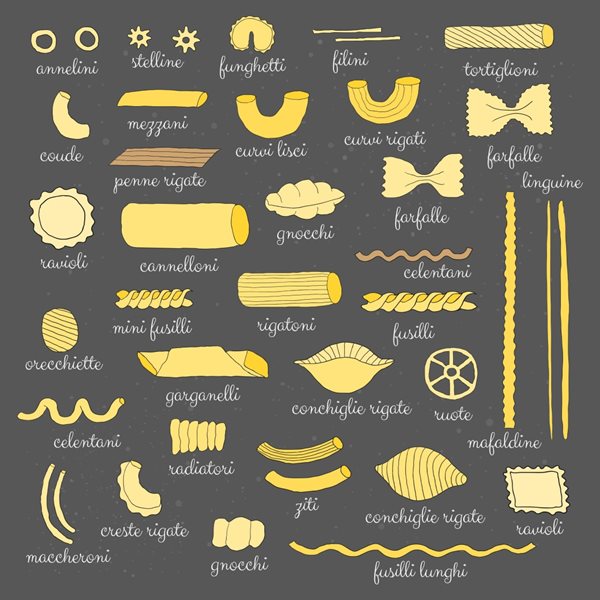 Cappelini – These ultra-fine strands look similar to spaghetti but are much thinner and cook faster.  You will find them paired with lighter sauces in recipes like this.
Fettuccine – These long, flat noodles are a popular pick and a good support for heartier, heavier sauces and ingredients. Try pairing with a chunkier vegetable and tomato sauce. If you're a fan of the classic fettuccine Alfredo, try this lighter version from Cooking Light.
Fusilli – These hearty little pasta springs look almost like spaghetti found a curling iron.  This pasta is a fun choice for kids and grown-ups alike and holds up to heavy toppings with ease.  Pair it with chopped and roasted vegetables or toss it in a cool salad.
Gemelli – These spirals look similar to fusilli but in double.  This pasta is less common to find but makes a beautiful centerpiece to a meal.  Try a recipe like this Gemelli with Broccoli Rabe, Bacon, and Chickpeas dish to make the most of it.
Linguine – Similar to fettucine, these long flat noodles are not as wide as their fettucine cousins and can be used in similar recipes.
Macaroni – The iconic elbow macaroni is an old favorite and looks like a little curved tube. This pasta is a pro at sucking up sauce for maximum flavor.  It's recently become a favorite in mac and cheese bites like these healthier whole wheat ones.
Orecchiette – These "little ears" are another interesting pasta to add to your diet.  Traditionally dressed up in tomato sauce and paired with meatballs, this pasta has shown up in a variety of tempting recipes like this simple Spicy Orecchiette with Broccoli.
Penne – This variety of pasta is a go-to choice for pasta salads and pairs well with variety of sauces and toppings.  Go wild! Look for choices at restaurants like the Penne & Reduced Fat Vodka Sauce with Chicken at Muscle Maker Grill
Rigatoni – Similar to penne but with straight ends instead of diagonal, rigatoni is another hearty choice that is often used in baked pasta dishes.  Why not enjoy a comforting recipe like this Baked Rigatoni With Tomatoes, Olives and Pepper?
Tortellini – These stuffed little rings of pasta are often a more decadent choice.  Find a wide variety, stuffed with various cheeses and vegetables, at the store to pair with marinara, pesto or simply a splash of olive oil and fresh herbs.
What's your favorite type of pasta to order?  When cooking at home, follow perfect pasta tips like these and use this guide to how long to cook different types of pasta to whip up creations to crave.
Healthy Dining's team of registered dietitians has selected a variety of pasta dishes to feature on HealthyDiningFinder.com.