Your Menu Labeling and Nutrition Partner
Now more than ever, nutrition is in the hearts, minds and appetites of consumers.
At Healthy Dining, team of registered dietitians is thrilled to support restaurants in meeting the expanding nutrition needs of your guests and helping your restaurant comply with the new menu labeling regulations. With 25 years of nutrition expertise in the restaurant industry and hundreds of thousands of restaurant recipes analyzed, Healthy Dining is the most experienced restaurant nutrition services provider in the world. Our client list includes more than 1,000 restaurant brands, spanning all cuisine types, most featured here on HealthyDiningFinder.com.
As the nutrition partner of the National Restaurant Association, we have extensive insight and guidance into the new FDA menu labeling rules, and our highly experienced and friendly team of registered dietitians is ready to guide you every step of the way to ensure you have accurate nutrition information. Contact Us to find out more.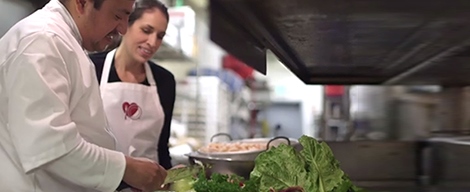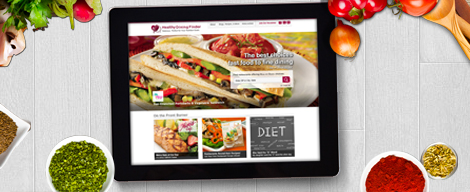 We stand behind the accuracy of our nutrition analysis so you can feel confident that the information you provide your guests is information they can trust.
We guide you step by step through the maze of menu labeling compliance, from developing accurate, standardized recipes to completing a comprehensive nutrient analysis of all recipes and products, to posting accurate nutrition information on your menus, to training your staff on their roles and how to respond to guests' nutrition-related questions and needs. 
Find out more about:
Menu labeling compliance and training
Nutrient analysis
Gluten and allergen identification
Vegetarian and vegan identification
Healthy recipe and menu consultation
Laboratory nutrient analysis
Nutrition information accuracy audits
A renaissance is taking place in the restaurant industry, and restaurants are turning to the expertise of Healthy Dining to prosper from today's growing nutrition trends.
By joining the Healthy Dining Program and partnering with the largest-ever restaurant industry nutrition initiative, your restaurant will showcase its commitment to offering guests healthier menu options.
Benefits of the Healthy Dining Program include:
Attract new and loyal guests
Gain a competitive edge
Build brand visibility
Negate the veto vote
Differentiate with innovative marketing and publicity initiatives
Together, we can contribute to a healthier America and future generations!